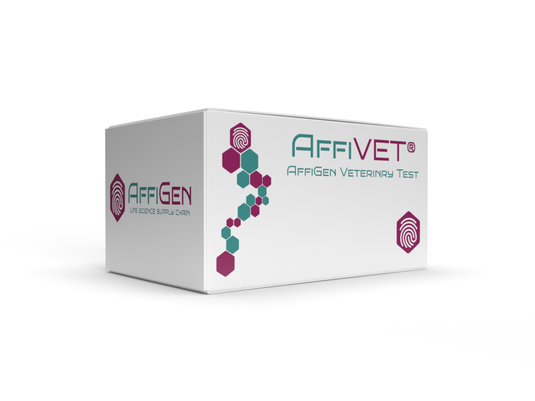 AffiVET® Canine Parvovirus CPV Antibody Rapid Test Kit
Species: Canine
Disease or Pathogen: Canine Parvovirus
Target: Antibody
Test Type: Rapid Tests
What is canine parvovirus?
Canine parvovirus is a highly contagious virus that can affect all dogs, but unvaccinated dogs and puppies younger than four months old are the most at risk. Dogs that are ill from canine parvovirus infection are often said to have "parvo." The virus affects dogs' gastrointestinal tracts and is spread by direct dog-to-dog contact and contact with contaminated feces (stool), environments, or people. 
What are canine parvovirus symptoms?
Some of the signs of parvovirus include lethargy; loss of appetite; abdominal pain and bloating; fever or low body temperature (hypothermia); vomiting; and severe, often bloody, diarrhea. Persistent vomiting and diarrhea can cause rapid dehydration, and damage to the intestines and immune system can cause septic shock.
ONE STEP IgG to Canine Parvovirus TEST : 
AFFivet Rapid CPV Ab Test Kit 3.0 : 
Principles : 
AFFivet Rapid CPV Ab Test Kit 3.0 is a chromatographic immunoassay for the
semiquantitative detection of IgG to parvovirus in canine serum, plasma or whole
blood.
AFFivet Rapid CPV Ab Test Kit 3.0 has two letters which are test("T") line and control ("C") line on the surface of device. Test line and control line in the result window are not visible before applying any samples. The control line is a reference line which indicates the test is performing properly. The control line has to appear every time when the test has performed. If the target antibodies are present in sample, a purple test line would appear in the result window. The highly selective antigens are used as each capture and detector in the assay. These antigens are capable of detecting IgG antibody to canine parvovirus in sample with high accuracy.
Materials provided :